Robert Utne applies over 30 years of experience in fine art, graphic design, and taxidermy to bring your vision to life. Whether in taxidermy, trophy room design, or wildlife art, his collective skills, along with a passion for hunting and the outdoors, helps to make your memories and dreams a reality.
Taxidermy - My goal is to bring an innovative approach to taxidermy. With so many resources available to the modern taxidermist, including great suppliers, photographic references, and, most importantly, client input makes achieving a life-like mount the norm, not the exception.  My own hunting and game viewing experiences have given me first-hand insight into African big game and most North American species. I specialize in life-size big game, from elephants to crocodiles. No job is too big or too small; I simply love a tough challenge!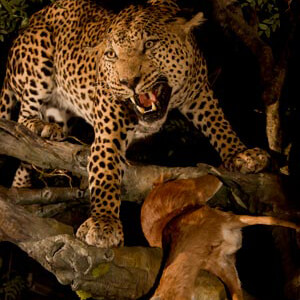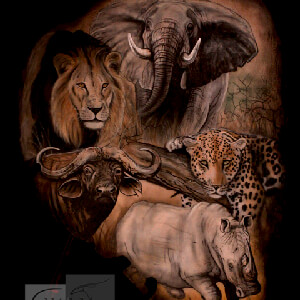 Elephant Ear Painting - Painting elephant ears has been a very interesting and unique adjunct to my taxidermy. I have developed a system for mounting your ear skin to a light-weight backing. The backing allows me to mold some of the natural folds and wrinkles, making each ear an original sculpture. When displayed, the elephant ear has a beautiful 3 dimensional look, creating natural shadows to enhance each piece of art. Truly an original! I also offer replica ears on which to carry out your artistic vision. They are a wonderful addition to a trophy room!
Art and Murals  - I started painting and drawing wildlife in the 1st grade and kept working in different media through high school. I spent many years painting motorsport images and customizing helmets for top professional drivers. I am currently working on developing my own style in the wildlife art market. Look for new and exciting images as my portfolio grows in the next few years!